Posted on
כ׳ בשבט ה׳תשע״ז (16 February 2017)
by Rabbi
She stretches out her hand to the poor; yea, she reaches her hands to the needy. (Proverbs 31:20)
The wife of a holy rabbi once gave a beautiful piece of cloth to a tailor so that he might sew her a dress. When the tailor finished the dress, he carried it to the holy rabbi's wife, set it down and sighed deeply.
"What's the matter?" the the holy woman asked. "Why are you so unhappy with the dress? It is truly beautiful and a credit to your skills"
In great pain, the tailor answered, "My daughter has become engaged to a fine young man. One day, seeing me sewing such a beautiful dress, the young man thought that it was for his bride. Learning that it would not be hers has filled him with sorrow."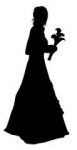 The holy woman was filled with care and kindness that she picked up the dress and handed it to the tailor. "This is a present for your daughter, the kallah (bride), for are we not taught, 'Lift up your eyes round about and see; all these gather together and come to you. As I live, says the L-rd, you shall surely clothe yourself with them all as with an ornament and bind them on yourself like a bride. (Isaiah 49:18) '" she said warmly.
The tailor was speechless and gathered up the dress and thanked the holy woman for her gift. He was about to leave when the holy woman called him back as she took out her purse and handed the tailor 5 gold coins.
The confused tailor looked at her and asked, "What is this? You have graciously given my daughter this beautiful dress and her heart will be filled with joy." The holy woman looked at the surprised tailor and answered, "You worked hard for a full week making this fine dress for me, and not for your daughter. With tired eyes and strained fingers you worked hard so that you might earn a little money for your family. Now I ask you, what will you and your family eat? Just because I gave you a gift for your daughter, does that mean that you should not be paid a fair wage for your work?"
May all your tales end with Shalom (peace)
Tell it to your children, and let your children tell it to their children, and their children to the next generation. (Joel 1:3) Please share this story with family and friends and let us know what you feel about the stories in a comment or two. Like us on Facebook  or tweet us on Twitter