The rabbi's wife was busy in the kitchen with all the last-minute preparations for the Seder, when there was a knock at the door. A young girl who was helping in the rabbi's house prepare for the seder, as Pesach was always special with the holy rabbi, answered the knock at the door. Someone had come to the home of the holy rabbi with a request for matzah for the seder. Seeing a stack of matzos wrapped up in a napkin, the young girl who opened the door innocently gave them away and hurried back to work. Puffing and steaming, the rabbi's wife came along soon after and saw that the matzos had vanished. She was shocked, these were none other than the select matzos which had been baked that same day with holy intentions, and with all manner of careful precautions against chametz, were baked for the holy rabbi's Seder, it was too late to undo. She felt her heart sag within her. How could she tell her husband of the mishap and cause him spiritual anguish? There was only one thing to do. She took a bundle of plain, ordinary matzos, deftly wrapped them up in the very same napkin, and pretended to know nothing of the whole affair. And that same evening, her husband conducted the Seder with the ordinary matzos.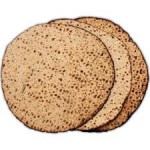 Soon after the festival was over, the holy rabbi was visited by a couple seeking a divorce.
"What makes you want to divorce your wife?" he asked the husband.
The young man answered that his wife had refused his request to cook for him during Pesach in separate uten­sils without shruyah — for it is the custom of certain pious folk to avoid allowing even baked matzah to come in contact with water throughout the festival.
Hearing this, the holy rabbi called for his wife and said, "Tell me the whole truth, please. What kind of matzos were placed before me at the Seder table?"
The rabbi's wife was afraid to speak up, so she held her peace.
"Do tell me, please," he reassured her; "have no fear."
The rabbi's wife mumbled the truth: "Ordinary matzos …" And she proceeded to disclose the whole story.
The tzaddik now turned to the over-zealous young husband standing before him, "Look here, my son," he said. "On the first night of Pesach I ate plain, ordinary matzah and pretended not to know nor sense the difference, in order that I should not be brought to expressing hard feelings or harsh words, God forbid — and you want to divorce your wife because of shruyah?!"
The tzaddik then restored harmony between them, and they left him in peace.
May all your tales end with Shalom (peace)
Click here for more storytelling resources
Vote on this post on Jblog