Posted on
May 16th, 2017
by Rabbi
In the city of Kaifeng, there lived a Jewish craftsman whose name was Shi Ziyu, who was known by his Hebrew name of Yehudah. He worked his loom in a small workshop. He wove beautiful silk, satin, and brocade with intricate designs. Everyone who saw his fine work wanted to buy them and with such a demand for his beautiful silks, satins and brocades he wanted to ex­pand his workshop, so that he could produce more. Next to his workshop there was an abandoned yard. Yehudah would have liked to purchase it, but even though it wasn't expensive, he still could not afford it.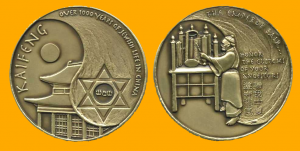 One night Yehudah had a dream in which he saw twelve golden calves danc­ing outside his workshop. In the dream he was puzzled about why they were there. When he went outside, they all looked at him, and ran away. He followed after them and they led him to the abandoned yard nearby. There they played happily and even did somersaults. Then they all ran to one corner of that yard and disappeared. That is when Yehudah awoke. He wondered about this strange dream, but didn't pay much attention to it.
Then it happened that the dream repeated itself the next night, and the next. After it recurred the third time, Yehudah started to wonder what it meant. He told his wife about the dream, but she dismissed it, saying "Dreams are of no effect either one way or the other." (Gittin 52a) Yehudah thought about what his wife said for some time and he decided to seek the advice from a wise and venerable wise man who lived in Kaifeng, who was known for interpreting dreams. The wise man said: "The place where the calves led you must be a good place, and may good fortune come to you."
Yehudah was struck by the words of the wise man, and he felt it was a sign that he should risk all his savings and purchase that yard. He did so, but even after he owned the land, he was too poor to build a silk mill.
One rainy day Yehudah walked through the yard, thinking about his dream of the golden calves. In every dream they had run into one corner of the yard and disappeared. He went to that corner and noticed that the land dipped and saw that the rainwater was flowing into it. Yehudah went over to the growing hole and it caved in and he discovered a cavern. Yehudah reached in and touched something hard. He quickly uncovered it, and pulled out a beauti­ful gold-plated treasure box. When he opened it, he couldn't believe his eyes—inside were twelve gold ingots bearing the stamp of calves.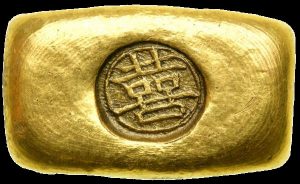 Yehudah picked up the box and showed it to his wife, and the two of them thanked the Holy One, blessed be He and celebrated their good fortune. Now Yehudah was able to build the silk mill he so desired. When the mill was completed, it produced some of the most beautiful satin tapestry in all of China. Even the emperor purchased twelve bolts of the finest brocade. He was so pleased with it, that he decreed that Yehudah's silk mill was the in the world. After that the brocade made in Yehudah's silk mill became more precious than gold, Yehudah gave thanks to G-d every day for his abundant blessings.
May all your tales end with Shalom (peace)
Tell it to your children, and let your children tell it to their children, and their children to the next generation. (Joel 1:3) 
Please share this story with family and friends and let us know what you think or feel about the stories in a comment or two. Like us on Facebook  or tweet us on Twitter  If the stories are not shared they will be lost. 
Please share this story with others