Posted on
June 24th, 2013
by Rabbi
Remove from your heart all worldly concerns when you stand to pray, carefully prepare your heart in the presence of the Holy One.

Iggeres haRamban 1268
A rabbi once stood in deep prayer, and a wolf came and took his son who stood beside him, but he went on praying. When he finished one of his students said to him, "Rabbi, did you not notice when the wolf came and took your son away?" "May all be well with my son," said he, "as surely as I did not notice it."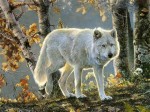 The rabbi began to teach, "Her princes within her are roaring lions; her judges are evening wolves; they gnaw not the bones till the morrow." (Zephaniah 3:3) This is justice without faith, those who live by what they believe are like the words,
"Whom, though I were righteous, yet would I not answer; I would make supplication to my judge. (Job 9:15)
For indeed, prayer, righteousness and repentance annul the evil decree. (J Tannis 2.1)
Before the rabbi finished his words, the wolf came and returned the child. "What did the wolf do to you?" Asked his father. The child answered, "he took me into a room and where I heard a kind of echo saying to him, "I did not send you for this one over the son of another""
Before the boy had finished, they heard people weeping and wailing, "Wolf has bitten the son who followed the ways of his father, a great sinner."
The holy rabbi looked at his students and explained:
All living beings associate with their own kind, and a man will have fellowship with his kind.  What fellowship shall wolf have with lamb?  Such is the wicked to the righteous

Ben Sira 13:16-17
Blessed is he who alone performs great miracles!
May all your tales end with Shalom (peace)